Invenio
The next generation NLP platform
Invenio by Wired Informatics offers Leading Edge Enterprise Ready Natural Language Processing (NLP) Technology that efficiently extracts knowledge embedded in unstructured data across the healthcare ecosystem. This knowledge drives meaningful results in real-time by bringing actionable patient data to the forefront.
Today roughly 80% of the data in EHR systems exist as unstructured data making it extremely difficult to realize its full potential. By combining the power of NLP and machine learning (ML) techniques, Invenio provides a scalable knowledge extraction engine for research and commercial product development.
Our statistical machine learning algorithms and models have been specially trained on a variety of clinical notes such as Primary Care Notes, Pathology Reports, Radiology Reports, Oncology Reports, and Discharge Summaries from various departments of major health care institutions thereby offering an unparalleled robustness and accuracy.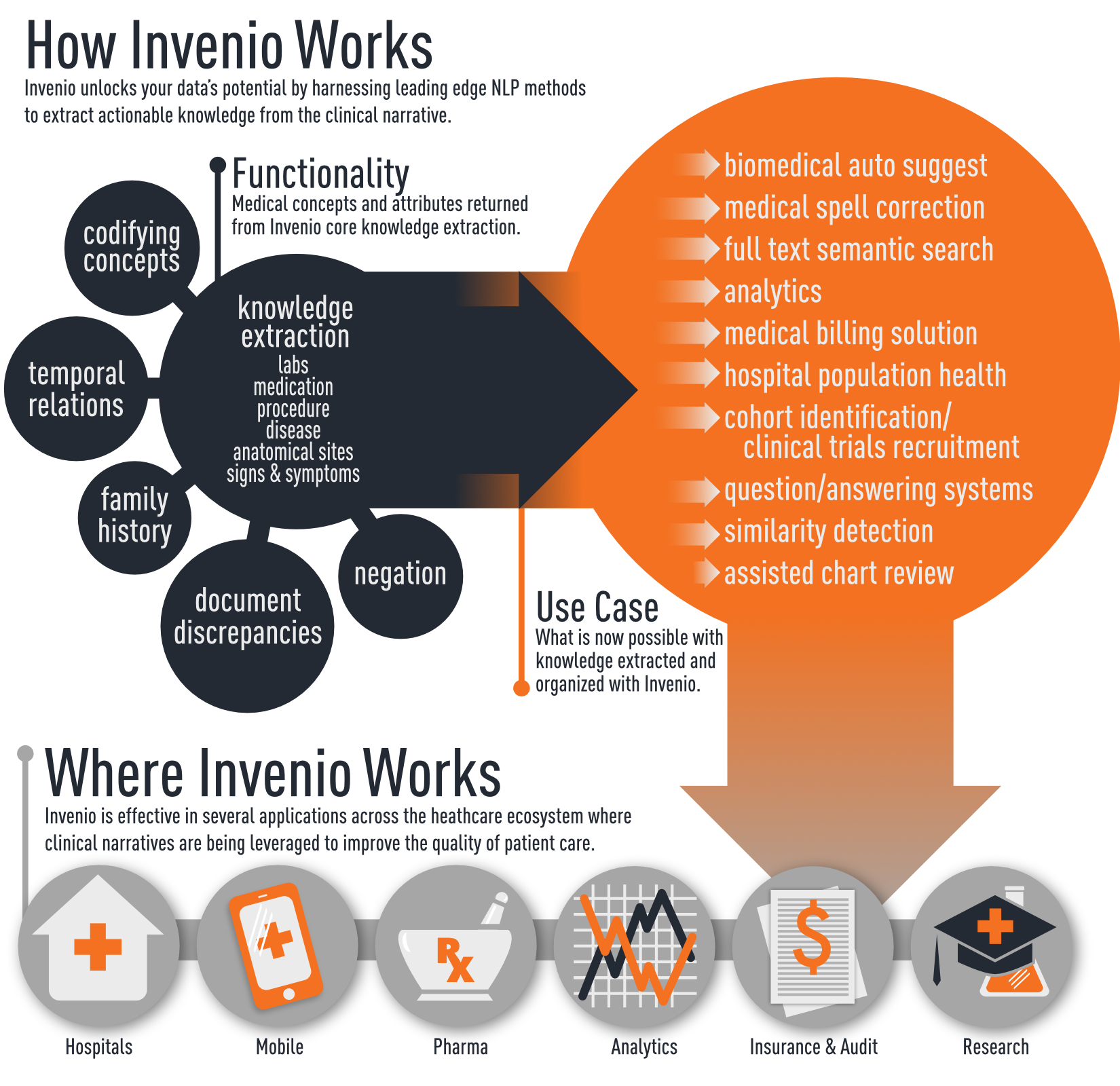 Hospitals and Pharma
Invenio empowers Quality and Safety officers to efficiently audit and verify patient documentation for consistency thereby improving the quality of care and also reducing incorrect procedures. Medical Information Groups within Pharma organizations have an option to automate the medical responses by training Invenio on the inbound requests and historical responses.

Mobile
Invenio drives mHealth transcription and billing applications by allowing rapid clinical text entry, auto suggest and auto correct features. Further, documentation generated after voice processing is processed and standardized for entry into EMRs and billing validation without the need for further transformation.

Big Data Analytics
Invenio fuels the Big Data Analytic revolution by processing and delivering normalized structured data to Hadoop and Mongo lakes for insight generation and population health analytics. By introducing Invenio we are able to transform plain text into rich knowledge that is readily available for semantic searching and advanced analytics.

We are excited to be delivering next generation big data solutions with Hortonworks. Enabling the creation and utilization of health data lakes for solving critical challenges with reporting, operations efficiency, population health management and advanced care management for healthcare institutions. Check...

New spinoff provides highly performant, scalable, and cost-effective natural language processing applications for information extraction and data structuring from electronic health records. Researchers from Boston Children's Hospital announced today the launch of Wired Informatics, providers of next generation, enterprise-grade natural language...
Want to see more articles; head on over to our archive.
Say Something To Us
We'd love to hear from you.
265 Franklin Street
Suite 1702
Boston, MA 02110